KAPP and Eðalfiskur's Groundbreaking Partnership at Aqua Nor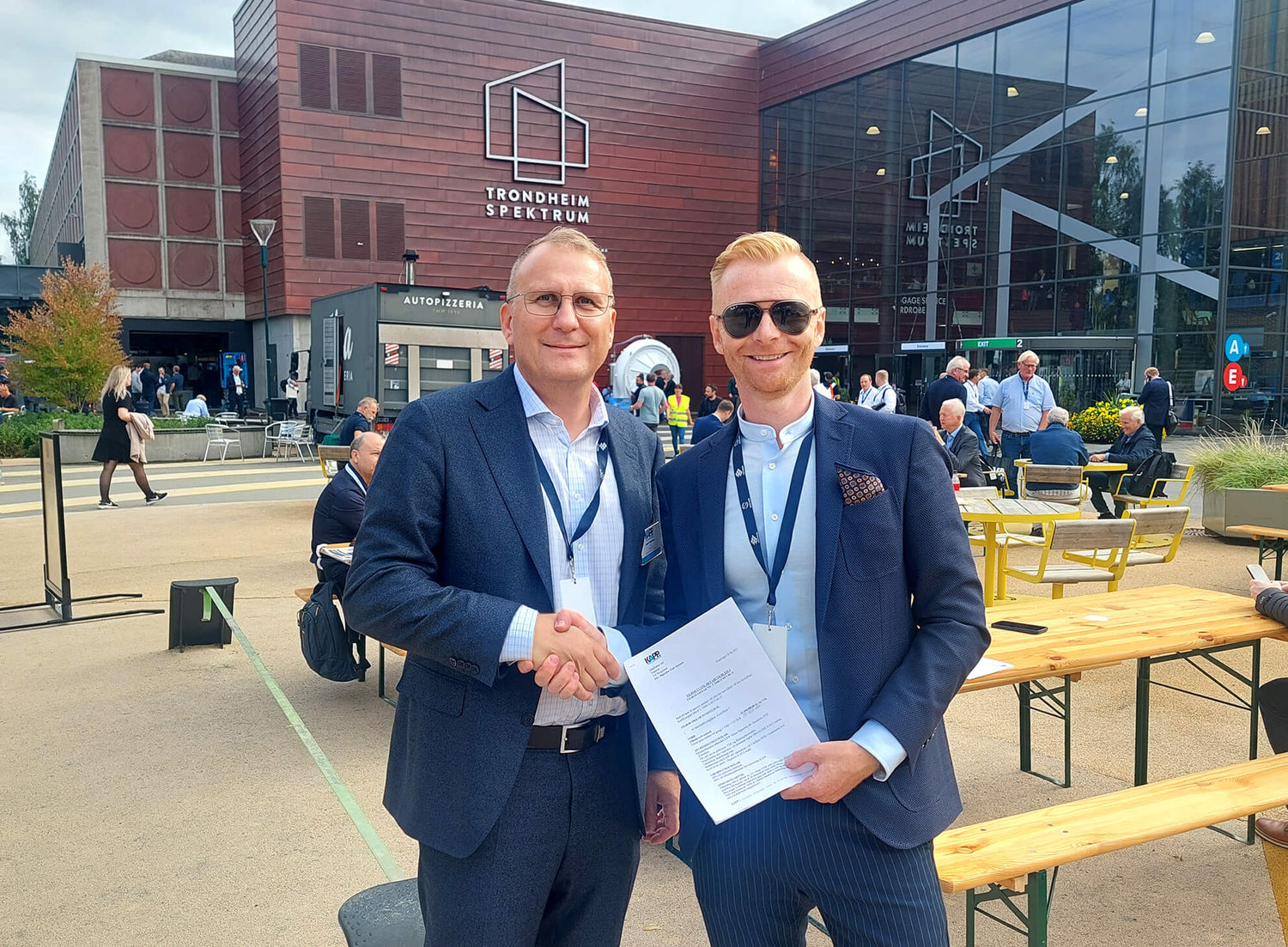 Revolutionizing Seafood Preservation: KAPP and Eðalfiskur's Groundbreaking Partnership at Aqua Nor
Trondheim, Norway - Each year, the vibrant city of Trondheim, Norway becomes a melting pot of innovation and camaraderie as it hosts the renowned Aqua Nor fisheries exhibition. This year's event was especially significant, attracting a diverse crowd, including a delegation of Icelanders, among whom were several representatives from KAPP.
Amid the bustling exhibition, a pivotal moment unfolded as KAPP, a prominent player in container solutions, inked a transformative agreement with Eðalfiskur. The agreement was centered around the acquisition of an ArcticBlast quick-freeze container, marking a pivotal step towards revolutionizing seafood preservation.
Titan Containers
The ArcticBlast blast freezer container, a remarkable creation from Titan Containers, stood out as a technological marvel. Spanning an impressive 40 feet, it boasted exceptional capabilities in both blast chilling and freezing processes.
A testament to engineering ingenuity, the ArcticBlast container showcased unparalleled cooling efficiency. In just 25 minutes, temperatures plummeted from 30°C to 5°C, underscoring its rapid cooling prowess. Equally impressive was its freezing capability, as it swiftly transitioned from 5°C to a frigid -18°C in a little over an hour. This achievement was further enhanced by an intensive focus on refining translation quality, allowing for a seamless transition from -18°C to 2°C in just over two hours.
Beyond their technical excellence, these containers exuded strength, durability, and a low-maintenance design. Noteworthy features included:
Dual Cooling Units

: The 20' ArcticBlast2 featured 2 freezing units, while the 40' ArcticBlast5 boasted 5 freezing units.

Swift Cooling and Freezing

: The containers enabled rapid cooling to 0°C and speedy freezing to -40°C.

High-Speed Airflow

: In the ArcticBlast5, a constant high-speed airflow facilitated a cooling rate of 1°C every 20 minutes, even when laden with 20 tons of products.

Seamless Product Management

: The containers seamlessly managed the de-translation of frozen products.

Energy-Efficient Cooling

: Equipped with a potent energy-saving chiller, the containers achieved maximum cooling efficiency while maintaining economical operational costs.

Hygienic Design

: Stainless steel walls and an aluminum floor ensured hygiene compliance for both medical and food storage.

Optimized Accessibility

: The containers featured doors with ramps at both ends to maximize product flow, while internal door openers ensured ease of use.

Enhanced Safety

: LED lighting and an internal emergency button enhanced operational safety.

Innovative Storage

: The 'n' Store feature enabled a fusion of blast freezing and storage through internal doors.

Smart Monitoring

: Leveraging TITAN SmartArctic remote monitoring, users gained secure, user-friendly access to the ArcticStore's capabilities.
High-quality value-added products
Eðalfiskur, a luminary in the industry for over 35 years, was celebrated for its unwavering commitment to producing high-quality value-added products using Icelandic salmon as a cornerstone. Anchored in Borgarnes, the company exemplified excellence by crafting superior salmon products catering to both domestic and global markets. Notably, Eðalfiskur embraced a robust sustainability ethos, placing minimal carbon footprint and community value creation at the heart of its operations.
A poignant image captured KAPP's sales manager, Heimir Halldórsson, and Sigurjón Gísli Jónsson from Eðalfiskur, engaging in the symbolic act of sealing the agreement. The picture crystallized the spirit of unity and progress that defines such collaborations.
Purchase or rental
KAPP, renowned for its comprehensive container solutions, emerged as a cornerstone for those seeking versatile options from Titan Containers. Beyond offering an array of container types for both purchase and rental, KAPP extended an umbrella of services, ranging from consultation and sales to impeccable after-sales support. The portfolio extended to include:
•
Refrigerated Containers
Furthermore, KAPP introduced modular container arrangements, creating multifunctional spaces without partitions and accommodating multiple floors.
In the pictorial representation accompanying the narrative:
1.
A world of possibilities unfolds within KAPP's expansive container range, with a promise of tailored solutions to meet customer needs.
2.
A glimpse into the flexibility of modular containers, capable of spanning diverse sizes and heights.
With the conclusion of Aqua Nor 2023, the groundbreaking partnership between KAPP and Eðalfiskur remains a compelling testament to the power of innovation, collaboration, and their transformative impact on reshaping seafood preservation, storage, and transportation.